Watch out! Overtaking!
26 February 2018
The Reason for Overtaking campaign aims at reducing the number of traffic accidents and fatalities in the process of overtaking and is implemented under the auspices of the Russian Association of Motor Insurers, the State Traffic Police Inspectorate of the Ministry of Internal Affairs of Russia, the Ministry of Education and Science of the Russian Federation, with information support of the Road Safety expert center.
The key objective of the campaign is to carry out complex activities in different communication channels aimed at preventing wrong way driving and evaluating factors when making a dangerous maneuver such as overtaking.
"The 2017 official accident rate statistics show that 15.1 thousand (-9.1%) of traffic accidents registered on the Russian roads were associated with wrong way driving, which killed 4.9 thousand (-7.5%) people and injured over 27.8 thousand (-9.1%) people. These traffic accidents account for 10.5% of all the car crashes involving non-compliance by drivers with driving regulations. The State Traffic Police Inspectorate of the Ministry of Internal Affairs of Russia pays special attention to prevention of offenses associated with wrong way driving as traffic accidents caused by this violation are characterized by the most serious consequences", said Mikhail Chernikov, Head of the State Traffic Police Inspectorate.
Overtaking needs a complex approach and target signals in different communication channels. When making outdoor advertisement layouts, we relied on traffic accident statistics and materials of sociological surveys.
Thus, a survey conducted as part of the campaign, showed among other things that drivers do not adequately evaluate the external risk factors when overtaking or ignore them. Among Moscow drivers, every third driver will not forbear from overtaking when it is raining, there is fog and it is snowing (31%). Outdoor advertisements as part of the socially important Reason for Overtaking project urges drivers to pay special attention to external factors on the road when overtaking: bad visibility and difficult weather conditions, and make sure that overtaking should be done. Every 10th Russian is ready to overtake in difficult weather conditions.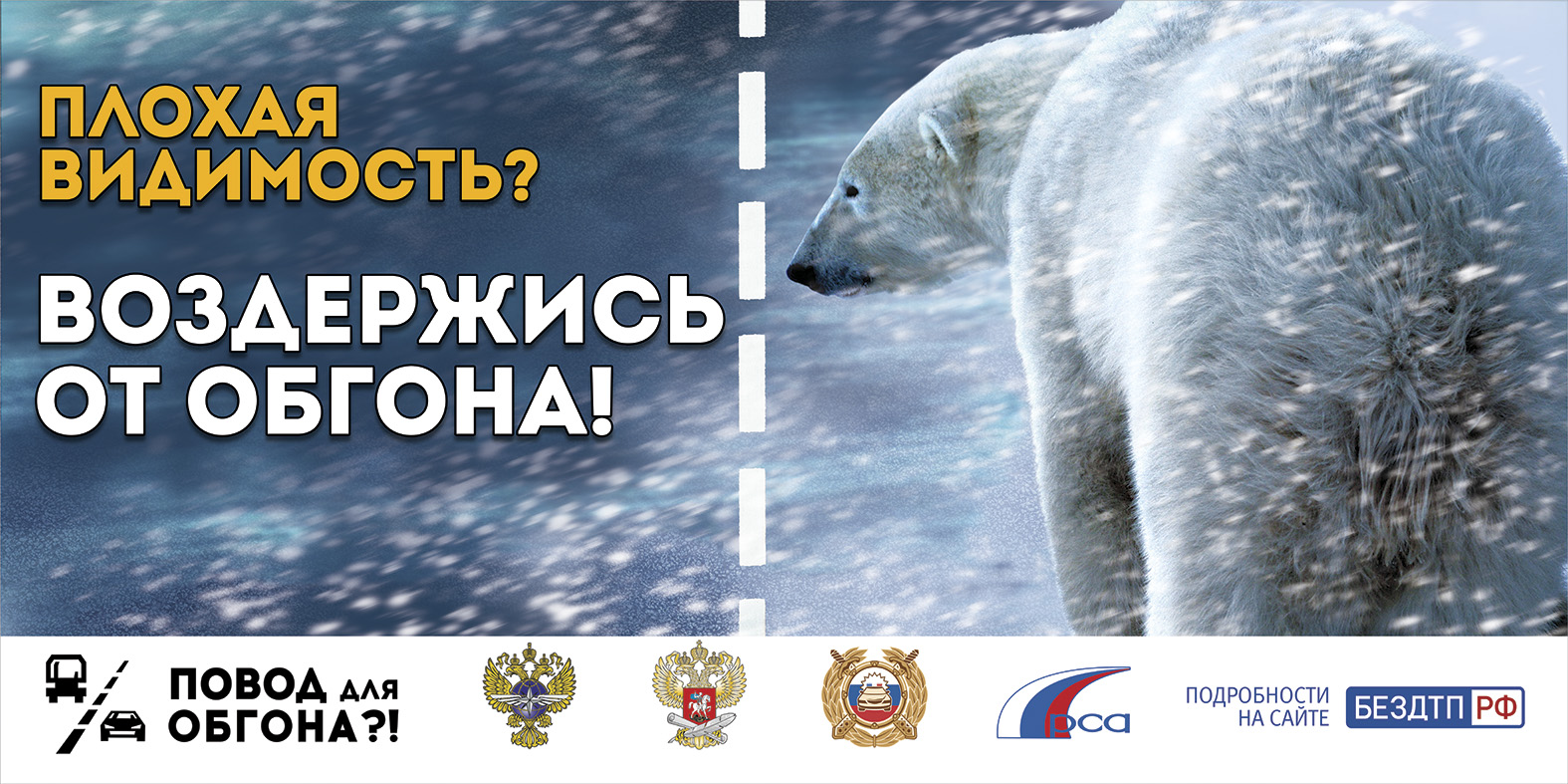 And 83% of surveyed Russians are ready to overtake only because they are in a hurry and have a subjective evaluation that the car before them goes slowly. It is important to understand that a simple look into the mirror may save your life and show that you are not the only one to be in a hurry. Statistics show that 9% of Russians have overtaken on the wrong traffic lane along with other road users for the last year. In an emergency, such snake-like overtaking leads to much more serious consequences in case of traffic accidents. Negligence of such simple rules can result in serious consequences and it is important to keep that in mind. The general road safety depends on your right decision.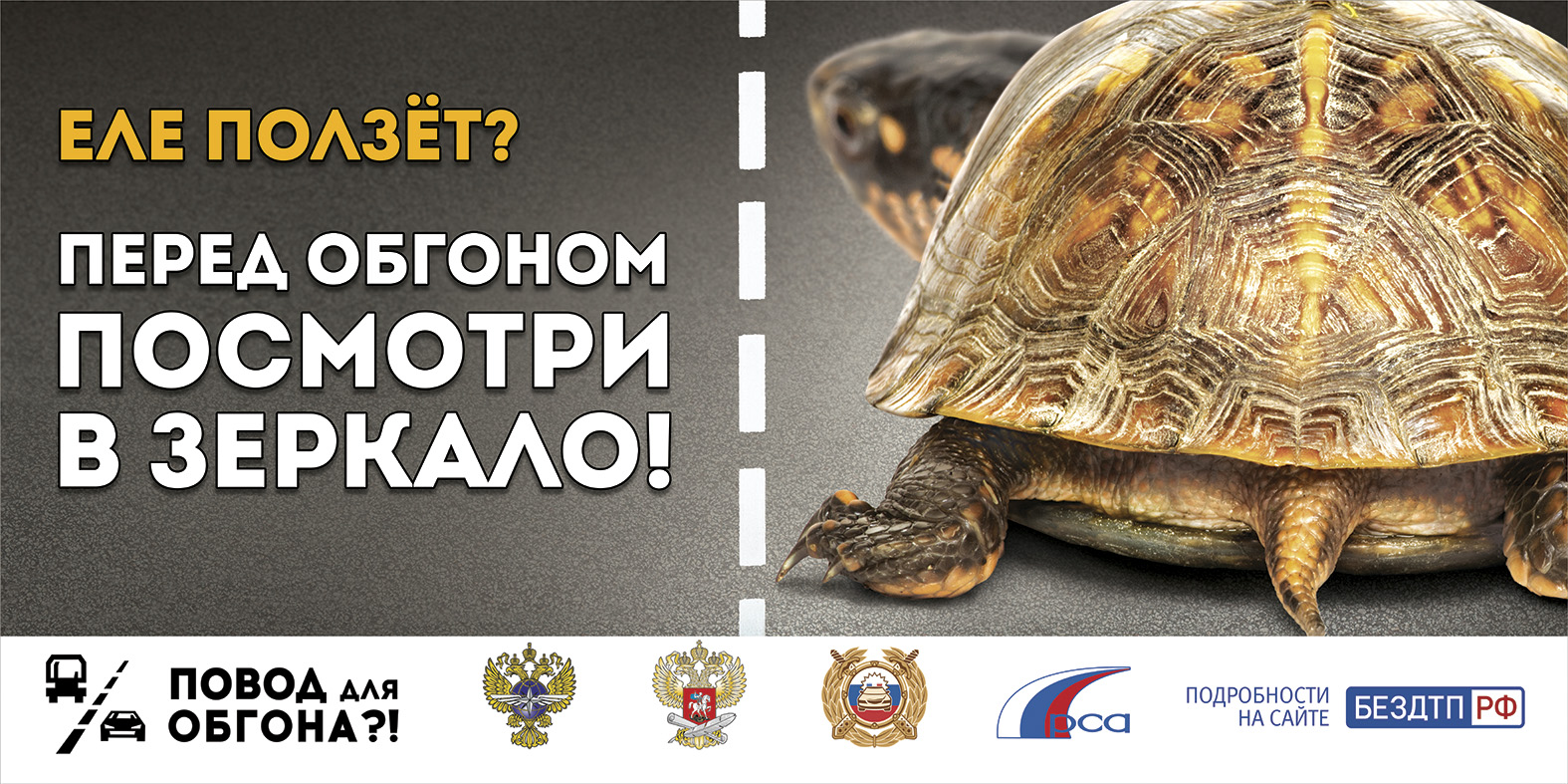 "The process of making a decision to overtake must gradually change by becoming more poised and well-thought. This view of drivers can impact the number of traffic accidents in the country. The idea of outdoor advertisements consists in reminding drivers that even the most important reason is not a reason for overtaking", commented Natalia Agre, President of the Risk-Free Road Traffic expert center.
One of the most alarming factors pointing out to the inadequate evaluation of the danger overtaking represents is overtaking when a child travels in a car. 25% of drivers overtake with a child in the car and men overtake more frequently than women. "We hope that advertisements will help reduce the road injury rate and show to drivers that overtaking is a dangerous maneuver, which requires from the driver to be attentive", commented Igor Yurgens, President of the Russian Association of Motor Insurers.
As part of the Reason for Overtaking campaign, social advertisement banners will be installed in 14 regions participating in the project. The topics of the Reason for Overtaking campaign will encompass regions such as the Republics of Kabardino-Balkaria, Komi, North Ossetia and Udmurtia, Krasnoyarsk Territory, Primorsky Territory, and Khabarovsk Territory, Belgorod Region, Briansk Region, Irkutsk Region, Ryazan Region, Tyumen Region, Ulyanovsk Region, and Moscow.
Comments
So that to post a comment you need to login the web site