Social ad banners call up Moscovites to buy car seats
06 December 2011
Developing campaign «Car seat to children!» Banners of social campaign were installed on Moscow streets
Large billboards with social advertisements suggest Muscovites are buying car seats instead of toys; they were installed especially to time up with campaign «Car seat to children!» This wide-scale action is initiated by the State Traffic Police jointly with the Russian Car Insurer Union (RCIU) and the non-governmental organization «Risk Free Road Traffic».
«In order to persuade parents to take care of the kids inside cars making sure the children are sitting in specially designed car seats we make use of various advertisement instruments outdoor ads inclusive, - points out Deputy Head of Directorate for Legal Control and Promotion of Safe Road Traffic in Russian STSI MIA police colonel Vladimir Shevchenko. – The number of fatal casualties among children remains high; it is the car seat that can save the live for children».
More than 50 posters featuring social advertisements were already installed in the streets of Krasnaya Presnya, Durova, Zemplyanoj Val, Kalanchevskaya and others. These posters show children sitting on the laps of huge soft toys with captions: «Bunny will not protect» and «Lion will not save». «A child inside a car should be seated inside a special seat», - explain authors of the social advertisement .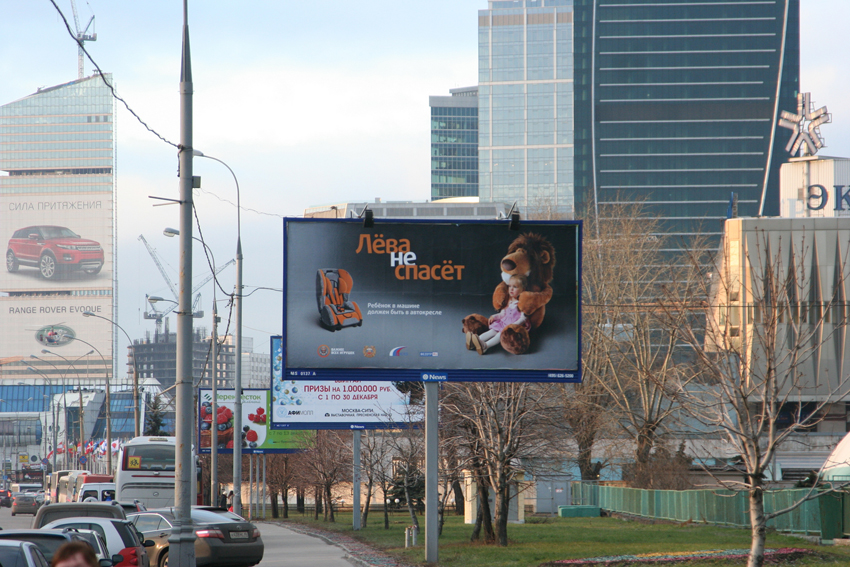 «These ads are aiming both at adults and children, - offered his opinion Vladimir Shevchenko. – We hope that the colorful bill boards will catch the sight of children and they will ask parents to buy a car seat for them or will refuse riding in car without it».
«As a rule car seats are sold in the same shopping areas together with toys, – elaborates the president of non-governmental organization «Risk Free Road Traffic» Natalia Agre. – We are willing to remind the parents that first of all they should ensure the safety of the child; another scenario can end up in a sad situation that there will be nobody to play with toys».
According to Natalia Agre the outdoor ads suggesting parents to buy car seat for the child were specially planned to be installed on the New Year Eve. «This is the time when many parents think about making presents to their kids and car seat - you can agree - is very important and necessary present . - WHO reports that the use of child restraining appliances inside cars can bring down the mortality among babies by 71%, and by 54% among other children».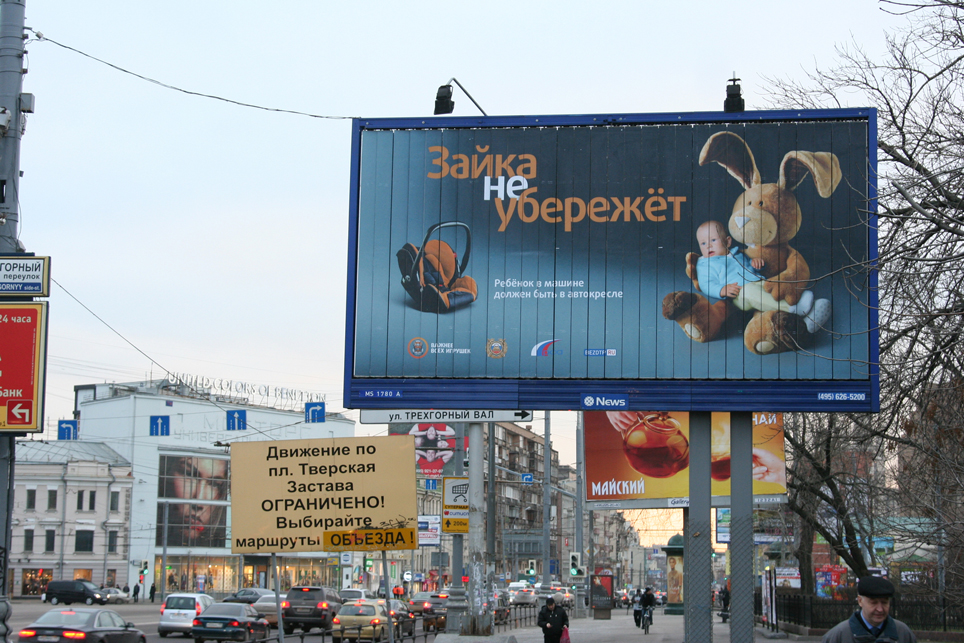 Wide-scale campaign «Car seat to children!» started on November 1; it will continue until the end of this year. The campaign involves various actions to be held in regions; these actions are aimed at drawing attention of adults to ensuring safety of children involved in traffic; quests "Cresland Treasures" are staged for small participants of the road traffic and their parents.
Moreover, specially for this campaign audio treks were recorded; in this addresses public figures are asking the drivers not to forget about car seats; video clip was shot and broadcast to million Russian TV viewers.
Comments
So that to post a comment you need to login the web site