Safety forecast campaign events across the country
25 April 2015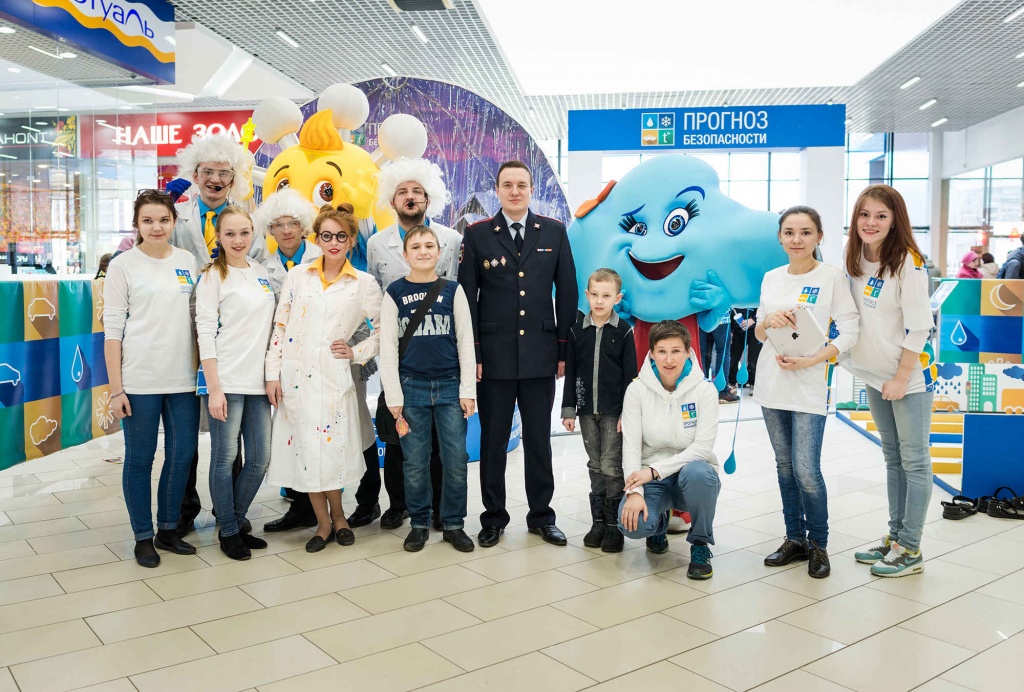 Main events of the Safety Forecast campaign have been held in Bashkortostan, Crimea, Sevastopol, regions of Chelyabinsk, Tyumen, Voronezh, Volgograd, Astrakhan, and Kuban, in Mari El and Kalmykia. The project revealed that the theme of road safety in context of weather changes is highly relevant for different regions of Russia that vary both in geographic and climate characteristics.
This social project received support at the highest level – campaign press and round-table conferences engaged regional leaders wherever they were held. Regional authority representatives noted the urgency of road safety improvement and were unanimous in matter of necessity of such social campaigns aiming at improving the culture of all road users.
Safety Forecast received support not only from heads of relevant institutions and departments, but also from heads of local authorities and city administrations, Ombudsmen for Children Rights, head officers of mass media, health and educational institutions, Russian Hydrometeorological Centre employees, opinion shapers and leaders.
Press conferences covered road safety problems affecting every region in particular, though universal safety measures were relevant everywhere regardless the uniqueness of weather conditions in different corners of vast Russia. Cities-participants of the campaign accommodated these press conferences in local leading universities. That fact corresponds with the campaign objectives, as higher education institutions are centers of science providing their students with fundamental knowledge and professional principles. Moreover, students themselves are inexperienced or future drivers requiring education on possible dangers on the road.
Screening of the Invisible Menace scientific documentary became a key campaign event for a hundred Russian universities. The documentary targets primarily younger audience, - high-speed picture and artistic graphics attract the viewer's attention and help take in the information on snow, rain, ice and fog influence on road safety. Viewers noted not only rules of behavior on the road, but also scientific facts about weather conditions – it was shown by the results of a test held right after the screening.
Safety Forecast engaged schools as well. Special physics lessons were held in numerous schools throughout the country – about 30 schools per every Russian region-participant of the campaign. Based on previous campaign experience, the organizers noted that road safety issues can be an effective part of the existing school program, especially in context of Fundamentals of Health and Safety classes. Such a new format of ordinary classes was interesting to the students – physics problems acquired a storyline, their main subject turned from being an abstract object to being a real car. At the same time, such physics problems made it easier to remember the theory and the main rules: in poor weather the breaking distance increases, visibility decreases, and roads turn more dangerous both for drivers and pedestrians.
Cartoon-like campaign heroes taught children in more than 250 kindergartens and 300 primary schools how to identify first signs of poor weather and how to act on the road. Kids learned about safe traffic schemes (schematic maps with highlighted safe passages) and the way to use those, discovered such terms as "retroreflective elements" and "braking distance of a car", and were told how to behave themselves in rain, fog, or blizzard. To remember everything better, little students received useful gifts: keychains, badges, vests, shoe bags with reflective elements, and coloring books on rules of behavior in poor weather.
Moreover, Safety Forecast engaged 10 biggest recreational centers of the country, which became launching grounds for the key campaign event – Safety Laboratory. More than a hundred gas stations and licensed driving schools hosted campaign events as well. After every event, the participants were presented with souvenirs and useful gifts.
All created educational materials will be available to the public even after the project. Campaign organizers – the State Road Traffic Inspectorate at the Ministry of Interior with the Russian Association of Motor Insurers and Road Safety Russia – consider it necessary to include lessons on road safety into educational programs in primary schools and kindergartens, as well as integrate topics of road safety into related high-school disciplines. Furthermore, it is important not to interrupt the process of learning road safety rules and to continue it in universities and driving schools with the help of both mandatory and elective classes.
Safety Forecast events were held not only in 11 regions-participants of the campaign, but all over the country. Based on created materials, many educational classes were held for preschoolers, high school and university students and driving school attendees.
Main events of the campaign are now completed. Safety Forecast campaign results will be concluded in Moscow during a final event in late April.
Comments
So that to post a comment you need to login the web site