Safety belts help to save lives
16 January 2013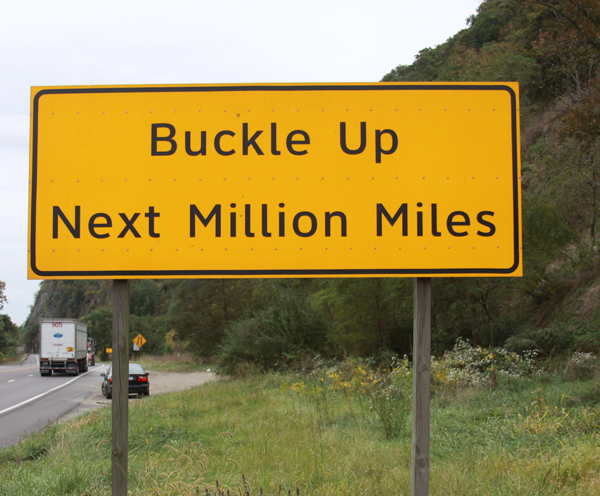 Among those killed and injured in road accidents almost a third are passengers. Today they are still one of the most vulnerable category of road users, because often unable to influence the situation and become trapped by dangerous or illegal behavior of a driver.
Ordinarily, several passengers are situated in the car at the same time; at the moment of accident the driver instinctively saves himself - this very fact explains such a large number of dead and injured passengers. Many of them are often unaware of passive safety measures in the car. Passengers in the rear seats are almost never fastened, many forget or do not consider it necessary to fasten children which results in accidents with tragic consequences.
Drivers, in turn, do not always remember that they are responsible for the life and health of their passengers, and often do not even deem it necessary to remind them to buckle up.
The effectiveness of safety belts is proved by the decades of its existence. Conducted studies spell out exactly that usage of this passive safety measure reduces the probability of driver's and front seat passengers death to almost 50% and 25% - for passengers in the back seats.
Furthermore, there is a perception that passengers in the rear seat of the car are less at risk of death or trauma in case of a crash, and therefore they do not need to buckle up. Contrary to popular belief unfastened back seat passenger do not only go in danger of his own life, but put in peril other passengers lives as well. Examination of over 100 thousand traffic fatalities has found that the possibility of front seat passenger death increases by five times, if the rear passengers are not wearing safety belt. Almost 80% of front seat passengers could have survived if the rear passengers would have been buckled up.
Therefore, the problem of non-use of seat belts survives to this day as a great danger to road users. That will be the subject of a new large-scale social campaign, which is now preparing by the Traffic Police of the Russian Ministry of Interior.
On the eve of the campaign we suggest you to take part in the opinion poll on issues of seat belts usage. From now on the public vote on the subject is launched on the Traffic Police official website www.gibdd.ru.
Do you consider it necessary to fasten not merely the front, but also the rear seat belt? Does the driver remind you of the necessity to buckle up? What could encourage people to use the tools of passive safety - increased responsibility, awareness of personal safety, own negative experience in traffic accident or additional monitoring by police? All interested are welcome to partake in online survey, answer these and many other questions and express their views on the topic.
Comments
So that to post a comment you need to login the web site