Road safety to be taught at pedestrian crossings
14 March 2014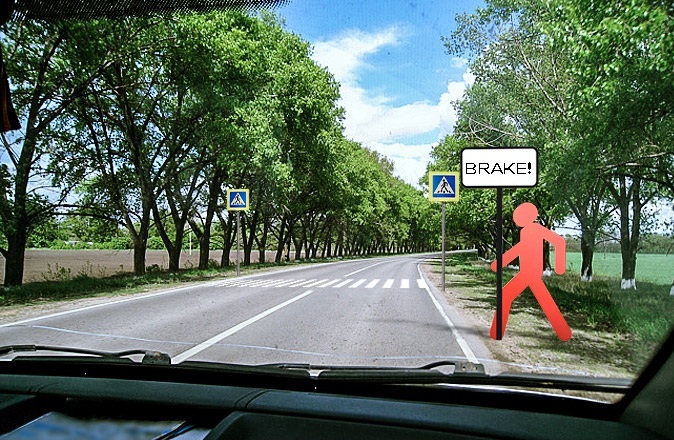 As part of the large-scale public awareness campaign "Brake in Advance!" pedestrian crossings are to be turned into mobile points to teach road safety to drivers and pedestrians. The campaign is an initiative of the General Department of Road Traffic Safety of the Russian Ministry of Internal Affairs and the Russian Association of Motor Insurers, with information support provided by NGO Road Safety Russia.
Specially designed signs will be placed 60 metres before zebra crossings to inform drivers that they must slow down. This measure will remind road users that the stopping distance of a car travelling at 60km per hour, in dry conditions and with properly functioning brakes, can be about 60 metres. If a driver does not brake in advance, they could injure or kill a pedestrian who suddenly steps onto the crossing.
Volunteers wearing clothing with the "Brake in Advance!" campaign symbol will remind pedestrians about road safety rules. They will talk about seemingly obvious facts: a car cannot stop instantly, and therefore when crossing the road, pedestrians must be sure that cars will make way for them. As a permanent reminder, pedestrians will receive promotional items with simple instructions about how to cross the road. They will also receive reflective badges to make them visible even when it is dark outside.
The main events of the "Brake in Advance!" campaign will take place in ten regions: the Chuvash Republic, Perm Krai, St. Petersburg, and the Vladimir, Kaluga, Moscow, Nizhny Novgorod, Novgorod, Omsk and Yaroslavl regions. The dates and times of the planned events will soon be available on the websites www.gibdd.ru and www.rsrussia.org.
During the course of a week, special classes will be held in universities, nurseries, schools and driving schools in each region. There will also be special events at petrol stations. The main event will be training in "The Art of Braking", during which drivers will be taught the principles and basics of effective and safe braking, and, supervised by instructors, they will have the chance to master braking techniques.
Comments
So that to post a comment you need to login the web site