It is up to adults to think about road safety of children
14 August 2015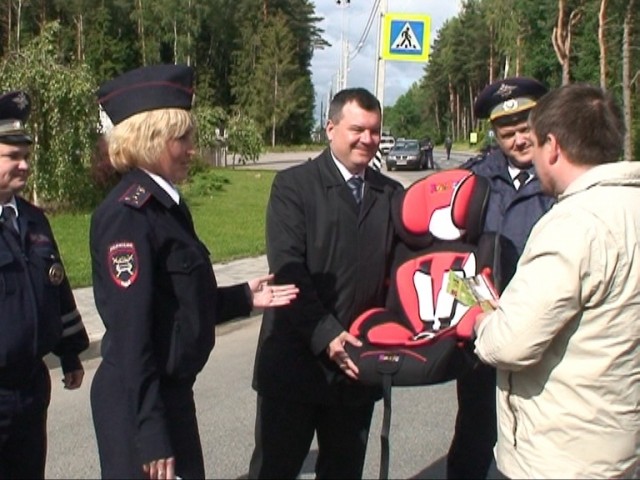 According to the State Road Traffic Inspectorate statistics, within first six months of 2015 there has been 69 743 road accidents in Russia, with 8 377 people killed and 91 230 injured, including 172 children killed and more than four thousand children injured while being passengers in different means of transportation.
Warm seasons bring with them a significant increase in road accident rates, with severity of such accidents increasing as well. Primarily it is linked to the carelessness of drivers tending to think of road safety less often, as they believe that road accidents do not happen in fair weather. However, statistics proves that it is in fine weather when road accidents happen more often.
Road accident analysis shows that severe consequences are more often present when passengers do not use passive safety systems such as seat belts or child restraint systems. It also shows that children are the ones that are hurt the most in road accidents.
Due to the increase in the number of children getting hurt in road accidents related to the disregard of rules of transportation, the State Road Traffic Inspectorate has been conducting preventive events aimed to promote use of child restraint systems and exercise control over observance of child transportation rules. The issue of child road safety has been approached at extended sessions of city and district commissions on road safety.
Efforts are underway for active engagement of companies responsible for child transportation via buses. Thus, there has been held a series of special targeted events in the Russian regions under the name School Bus; in the course of these events, more than 25.3 thousand buses involved in organized child transportation has been inspected, almost 900 officials have been held administratively liable. Briefings on the peculiarities of route transportation has been held with drivers of trucking companies.
Special emphasis has been placed on the obligatory use of seat belts and child restraint systems. More than 52,000 talks on obligatory use of child restraint systems has been held with parents. Russian regions has been engaged in different All-Russian preventive actions like Car Seats For Children, A Child Is The Most Important Passenger, and others.
Aiming to prevent child injuries on the road, in the first half of 2015 the State Road Traffic Inspectorate officials has organized and carried out 56.7 thousand preventive raids targeting specific violations of traffic rules, including more than 12 thousand events targeting violations of passenger transportation rules and 16.7 thousand events targeting violations of rules of child restraint system use.
In the course of exercising the state duties of control and supervision over compliance with the road safety requirements, in the first six months of 2015 the State Road Traffic Inspectorate officials has prevented 354.9 thousand traffic rules violations related to child transportation.
Despite the efforts made, the issue of children-passengers' safety remains one of the most urgent ones. In order to reduce the number of road accidents involving children it is necessary to maintain continuous communication on the importance of the topic with all road users.
One of the key conditions for overcoming the current situation if the formation of public road culture and enlisting of wider public for the prevention of such violations. A survey conveyed on the State Road Traffic Inspectorate web-site (www.gibdd.ru) will help determine whether the Russians are ready to display social activism towards this problem.
Visitors of the web-site are offered to answer the following question: "What will you do if you see someone transporting a child without a child restraint system in place?". There are all kinds of responses: from decisive "I will report to the police" and "I will try to explain to the driver the dangers of such actions" to the most indifferent "I won't do anything. Everyone has to think about child safety on their own".
Comments
So that to post a comment you need to login the web site