Europe to learn about Russian social campaigns on the Road Safety
16 November 2011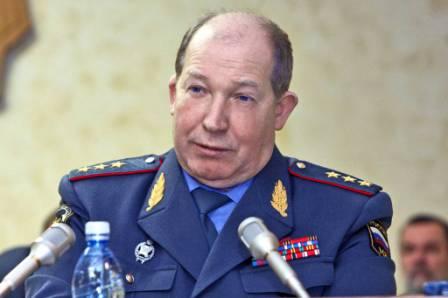 Victor Kiryanov explained in Geneva how effective road safety social campaigns are in Russia
The Russian social campaigns aimed at improving road safety have proven to be effective – this was the message the Deputy Minister of Internal Affairs of the Russian Federation, police Colonel-General Viktor Kiryanov made speaking at the 14-th meeting on Co-operation within the framework of the UN in the road safety area in Geneva.
According to him an initiative of the Russian Interior Ministry traffic police was realized this year as a large-scale social campaign "Passenger Right". The main objective of the social campaign was to draw attention to the issues of passenger safety.
Currently a social campaign "Car Seat to Child" was well underway in Russia. It was launched on November 1. Similar to the previous campaigns the "Car Seat to Each Child" campaign is supported by the Russian Union of Car Insurers (RUCI) and NGO "Risk Free Road Traffic".
"At the stages pre-empting the campaign" Car Seat to Every Child" we carefully analyzed the statistics on accidents involving young passengers and conducted the opinion polls - said Victor Kiryanov. - This work resulted in developing a comprehensive proactive strategy to cope with above issue which includes information and education activities".
The Deputy Minister pointed out that the campaign coincided with the birth of the seven billion person on our planet who was announced to be resident of Kaliningrad Peter Nikolaev. After a UN representative gave his mother the "Born on the day when Earth population became seven billion" commemoration certificate the officers of the Traffic police presented the boy with the car seat.
"We are resolute that the car seat is the necessary and most important present to for baby; it can protects the child in an accident, it will save his life and health, - said Victor Kiryanov. - The effectiveness of car seats has been repeatedly proven in studies in our country and abroad. The main issue now is to make sure that car seats become the norm, so parents just do not consider transporting children in the car without it. Unfortunately today many adults continue thinking erroneously that the child is more comfortable in the mother's arms. This misconception often lead to tragedies which could be avoided".
Victor Kiryanov also reported that on 20 November together with the entire international community Russia would commemorate the Road accident casualty day. "On this day the memorable activities will be held all over the country to remind road users that traffic accidents claim thousands of lives every year" - he pointed out.
Comments
So that to post a comment you need to login the web site