Above all, wear a helmet!
28 June 2013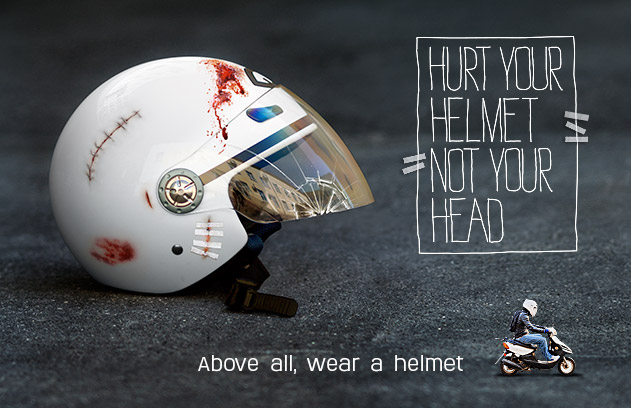 The Russian State Automobile Inspectorate and the NGO Road Safety Russia have announced the launch of their new nation-wide public awareness campaign, "Above all, wear a helmet!". The campaign aims to improve the safety of drivers and passengers of motorbikes and scooters and advocates the compulsory wearing of helmets for all journeys.
The campaign was launched officially on29 June 2013 with a "Scooting by the Rules" event in Moscow's Sokolniki Park. Everyone taking part or coming to watch the event had the opportunity to see the public information posters, "Hurt your helmet not your head", which have been produced as part of the "Use your head, wear a helmet" campaign.
This is a very timely campaign, coming as it does at the height of the motorcycling season. According to statistics fromRussia's State Automobile Inspectorate, in the first five months of 2013 there were 1,944 motorcycle and scooter accidents inRussia, in which 253 people died and 2,184 were injured. One way to reduce the fatality rate among drivers and passengers of two-wheeled motor vehicles is to make the wearing of safety helmets compulsory. The use of good quality safety helmets can reduce the risk of fatal injury in the event of a road traffic accident by 40% and the risk of serious injury by over 70%. If they are to reduce the impact of road traffic accidents helmets must comply with Russia's approved safety standards.
The "Above all, wear a helmet!" public information posters will appear throughout Russia. The organisers will prioritise universities and colleges, driving schools and motorbike and scooter clubs. Some of the posters will also include information aimed at motorcyclists and scooter riders, addressing the importance of wearing a helmet and complying with road traffic regulations.
In addition, the State Automobile Inspectorate and Road Safety Russia particularly wish to highlight the importance of training for motorbike and scooter riders. Large numbers of drivers and passengers are still suffering road traffic accidents due to basic mistakes such as misjudging distances, speeding, failing to use indicators, or when crossing oncoming traffic or changing lanes. The campaign reiterates the need for a system of training for learner drivers and for the establishment of special driving schools to provide advanced driving skills courses for motorcyclists and scooter riders.
Comments
So that to post a comment you need to login the web site