"Safety Forecast" Campaign to Prepare Drivers for the Vagaries of the Weather
05 January 2015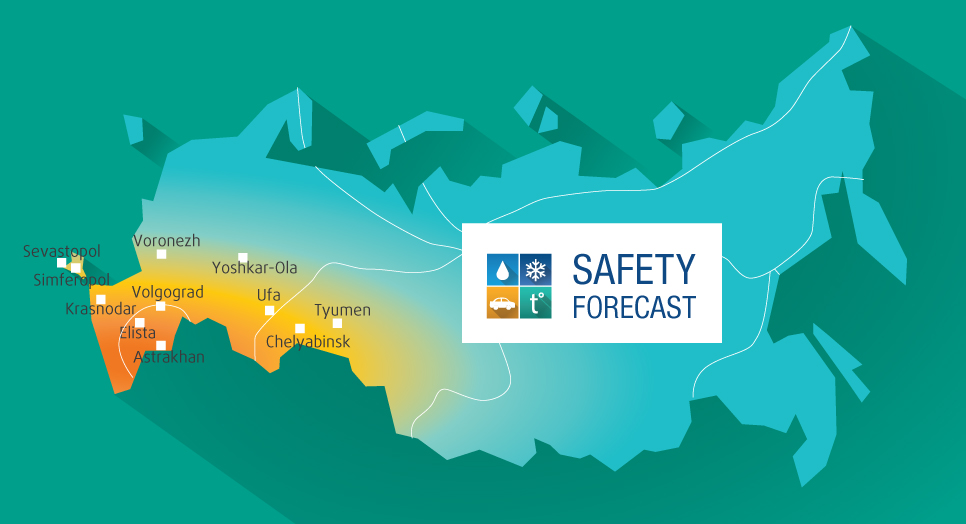 A large-scale road safety campaign is being launched in Russia with the aim of reducing the number of accidents caused by poor weather conditions. The campaign, entitled "Safety Forecast", is being run by the General Department of Road Traffic Safety of the Russian Ministry of Internal Affairs and the Russian Association of Motor Insurers, with information support provided by NGO Road Safety Russia.
Statistics from the General Department of Road Traffic Safety show that about one third of all road traffic accidents a year are caused by poor weather conditions. Contrary to popular opinion, rather than sudden snowfalls or unexpected rain, one of the main causes of these accidents is a lack of driver and pedestrian awareness of the impact of poor weather on road safety. Consequently, a significant number of drivers do not adjust their driving to the weather conditions, and pedestrians do not take additional protective measures.
According to a joint study by the Russian Public Opinion Research Centre (VTsIOM) and NGO Road Safety Russia, up to 70% of drivers know that they are legally required to reduce their speed when necessitated by the weather conditions. Even light rain or fog can increase the braking distance and cause an accident. However, most drivers slow down only when the weather is severe. They rarely use fog lights or limit the amount of times they switch lanes.
Pedestrian safety is also highly dependent on visibility on the road, but most pedestrians do not give this any thought. In foggy conditions, about 80% of pedestrians continue to act as though the weather were clear. Only 9% of those surveyed said that they take more care, and less than 5% use reflective elements.
Unfortunately, most road users only learn to take account of the weather conditions when they experience the dangers first-hand. The objective of the new "Safety Forecast" campaign is to teach drivers and pedestrians the correct way to react to different types of weather: rain, snow, hail, fog, black ice, and sharp changes in temperature. The campaign will create a television advert to be shown on federal television channels, radio adverts to be broadcast by central radio stations, and outdoor advertising to remind drivers and pedestrians to be more careful in poor weather.
The "Safety Forecast" campaign will explain to all road users how weather affects driving conditions. It will also provide practical advice on how to avoid road accidents in poor weather. Special road safety classes will be held in universities, schools and nurseries in ten Russian regions. Petrol stations, driving schools, and retail and leisure centres will also be involved in promoting the campaign.
Comments
So that to post a comment you need to login the web site