"Brake in Advance!" campaign to teach students road safety
19 March 2014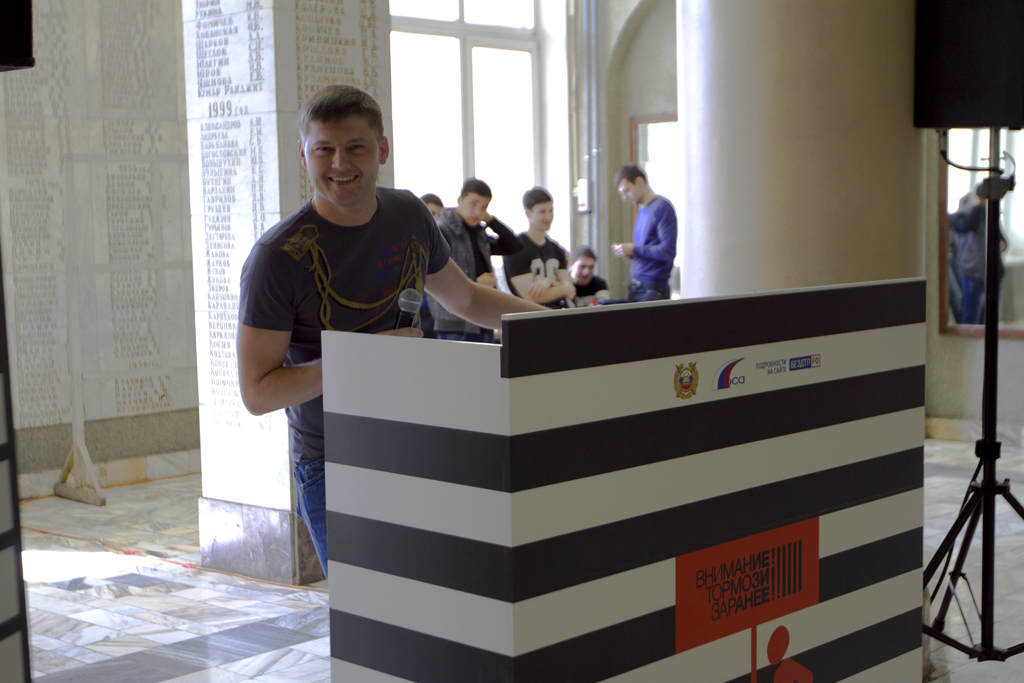 As part of the "Brake in Advance!" campaign, events are being held in universities in the capital of Chuvashia. The drivers among the students are being told how important it is to brake in advance of pedestrian crossings, while the message for pedestrians is that they should be visible and observe the rules when crossing roads. The "Brake in Advance!" campaign is an initiative of the General Department of Road Traffic Safety of the Russian Ministry of Internal Affairs and the Russian Association of Motor Insurers, with information support provided by NGO Road Safety Russia.
Foreign studies show that safe driving behaviour develops by about the age of 25. Drivers under the age of 25 often fail to understand the possible risks to life and health and overestimate their own abilities and the capabilities of their vehicle. In 2013 drivers aged 18 to 22 caused more than 16,000 road traffic accidents, killing almost 2,000 people and injuring 23,000. This is why it was decided that the "Brake in Advance!" campaign should run events specifically for students. Students generally already have a driving licence or are planning to obtain one in the near future, and new road safety information is especially relevant for them.
To appeal to a young audience, the "Brake in Advance!" campaign is using innovative communication channels. DJ mixing decks will be set up in the universities and any student who so wishes will be able to create their own track. For a successful mix, they must "break in advance", i.e. slow down the beat. The students will have to pay attention to cues and react to them quickly.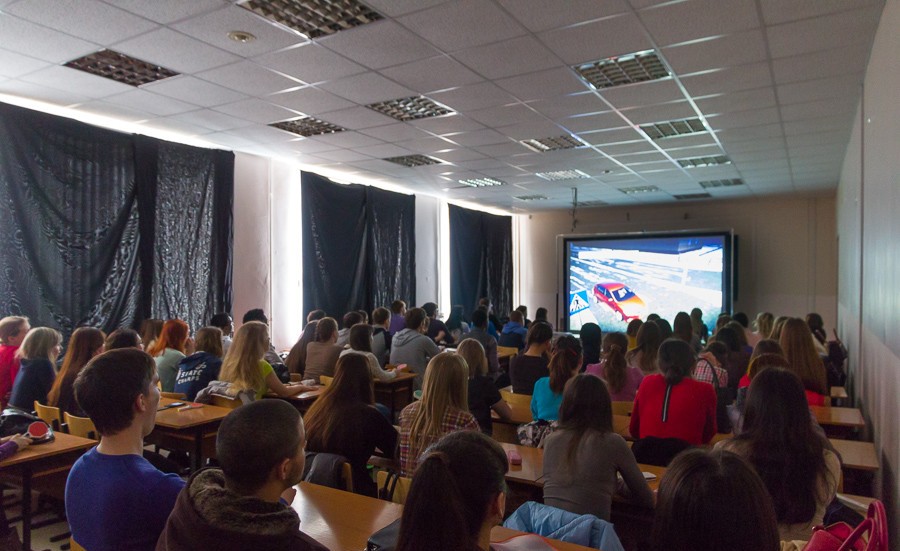 The main event in the universities will be a video lecture. This will be used to teach students about how the stopping distance depends on vehicle speed, where a driver must look to avoid hitting a pedestrian, and how to react correctly to unexpected situations on the road. The video will also teach pedestrians how to avoid being involved in a road accident.
Students will also be able to enter a competition entitled "Safety Wishes", which aims to draw the attention of all road users to the issue of pedestrian safety. Photo stand-ins of the pictogram from the pedestrian crossing sign will be set up in the universities. Students will be invited to write down a road safety wish (a driver's wish for pedestrians, or a pedestrian's wish for drivers) on a blank placard. They can then have their picture taken, together with their safety wish, in the pictogram photo stand-in. To enter the competition, participants should upload their photograph to the campaign's photo gallery, tell their friends about the competition, and ask them to vote for their photo. The competition will run for two weeks. The participant whose photo collects the most votes during this time will win first prize: a smart phone (for drivers) or driving lessons (for non-drivers).
The competition is open to pedestrians and drivers over the age of 18. Entrants must sign up for the Road Safety Russia group on the VKontakte social network. The competition winners will be announced no later than 12 May.
As well as in Chuvashia, "Brake in Advance!" campaign events will be held in universities in Perm Krai, St. Petersburg, and the Vladimir, Kaluga, Moscow, Nizhny Novgorod, Novgorod, Omsk and Yaroslavl regions. A separate "Safety Wishes" competition will be held for each region.
Comments
So that to post a comment you need to login the web site