"Buckle Up!" Project Wins International Prince Michael of Kent Award
11 December 2013
The "Buckle Up!" national campaign to promote seat belt use has received a Prince Michael International Road Safety Award. The campaign was a joint project of the General Department of Road Traffic Safety of the Russian Ministry of Internal Affairs, the Russian Association of Motor Insurers (RAMI), and the NGO Road Safety Russia.
The award was presented to Road Safety Russia by His Royal Highness Prince Michael of Kent, Patron of the Commission for Global Road Safety, at the 17th Annual Award Ceremony in London on 10 December.
Accepting the award, President of Road Safety Russia, Natalia Agre, said that the "Buckle Up!" campaign was part of a broader effort by the General Department of Road Traffic Safety and RAMI to establish a road safety culture. They have been doing a tremendous amount of work for many years now. "In the last eight years, there has been a particular emphasis in Russia on work relating to seat belts, and campaigns like "Buckle Up!" are achieving results: studies show that people have indeed started to buckle up. While in 2006 only 30% of people always used a seatbelt, in 2012 it was 80%," Ms Agre said.
Ms Agre stressed, however, that it would only be possible to really change the situation on Russia's roads if every department and ministry engaged in this work: "A road user's attitudes and behaviour begin to form literally from birth. Therefore, education must start in maternity hospitals, continue at nursery and school, and be reinforced at driving schools. Continuity is important in road safety education."
One of the next steps in this respect is to develop training programmes for various categories of driver. Road Safety Russia is part of the Russian Ministry for Education and Science's working group that has been tasked with producing these documents. In its feedback to the group, Road Safety Russia has placed particular emphasis on road safety and the need for a module on seat belt and child restraint use.
The head of the General Department of Road Traffic Safety, Police Lieutenant General Victor Nilov, noted that the campaign had devoted a lot of attention to working with children. This was because it is important to accustom children to safe behaviour on roads from the very earliest age. "Transportation of minors is of great concern to us," Mr Nilov said. "As part of the campaign, together with educational institutions, we carried out preventative measures based on analysis of violations when transporting minors. The results of these measures are seen both in the reduced number of road traffic accidents and in studies of public opinion. The number of people who only use a seat belt to secure their children in a car is gradually declining. We are seeing increased use of special restraints such as children car seats. This work should, and indeed will, continue. We do not intend to rest on our laurels."
Pavel Bunin, RAMI President, said that improving road safety education and the behaviour and attitudes of all road users was a priority: "RAMI has been running road safety campaigns for many years, together with the General Department of Road Traffic Safety and Road Safety Russia. These campaigns not only yield positive results, but also evolve into long-term federal programmes. Improving the behaviour and attitudes of road users is an extremely important area of RAMI's work. And we are delighted that our efforts have been recognised today by the most prestigious award in the world."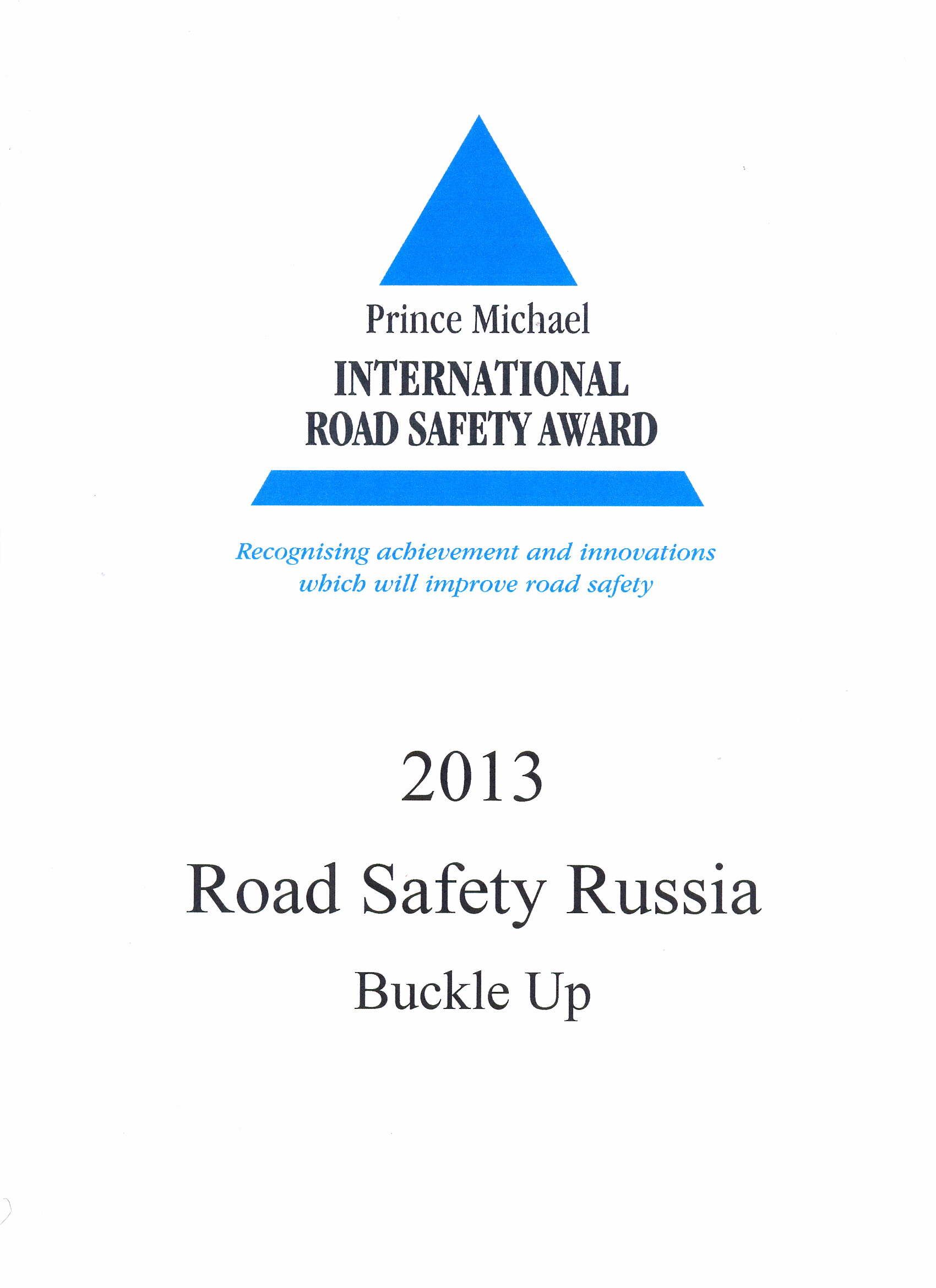 About the Awards:
Prince Michael International Road Safety Awards recognise achievement and innovations. Each year since The Prince launched his awards in 1987, the most noteworthy examples of international road safety initiatives have been given public recognition through the scheme.
Russia has been honoured with a Prince Michael Award on two previous occasions: the General Department of Road Traffic Safety in 2007, and the Government of the Russian Federation in 2013.
About the Campaign:
All of Russia's 83 regions participated in the "Buckle Up!" public awareness campaign. The campaign involved governmental and non-governmental bodies, and federal and regional media. A television advert ("Palekh Box"), outdoor advertising and radio spots on federal radio stations reminded Russian drivers and passengers that they must use seat belts. Educational events for the whole family were held in ten regions: residents and visitors could test their knowledge about seat belt use, ride in a road traffic accident simulator, vote "for" or "against" seat belts, have their photograph taken in a "matryoshka family" stand-in cutout (mother, father and three children), and even win a special prize. In addition, special safety lessons were held in nurseries, driving schools and taxi firms in each region.
Comments
So that to post a comment you need to login the web site