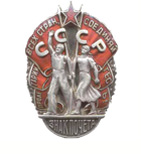 "The Red North" Regional Newspaper of Vologda
Present children with a сhild seat!
21 December 2012
Father Frost is confident: a child car seat is the best gift to drivers.
On the New Year Eve you can hear a lot of advice what to buy to your kinsfolk and relatives for presents. The State Road Traffic Safety Department of the Vologda Region has an advice of its own - a child car seat is the best New Year gift.
Mrs. Svetlana Korjakina, a resident of the Vasilevskoe village of the Veliky Ustyug district, gave birth to a daughter named Milana on her own birthday. She was astonished when on release from a maternity home with the newborn she was met by her happy husband together with Father Frost and Mrs. Irina Trusova, chief of advocacy branch at the Regional State Road Traffic Safety Department. The welcomers congratulated the parents with the third child in the family and presented them with an infant bucket seat.
"The birth of a child is always a very happy event. The baby craves for parents' love and care. Adults should be aware of the responsibility for upbringing a cheerful person and a law-abiding citizen of our country and they are in charge of the baby's safety from the first minutes of her life", - said the parting words Mrs. Irina Trusova.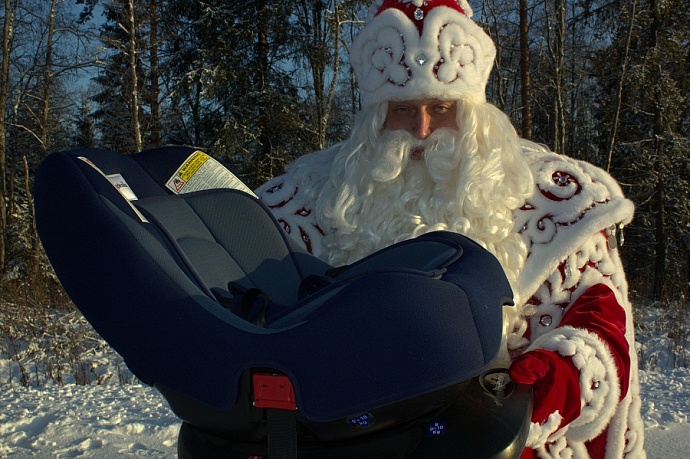 In this fashion the road traffic safety inspectors of the Vologda Region contribute to the All-Russia "Child Seat to Children" social campaign aimed to popularize the use of child car seats. The State Traffic Safety Inspectorate presses for the adults' attention to the necessity of using these safety means designed to protect children in case of a road accident.
The State Road Traffic Safety Department decided to wage this large-scale event with a particular reason. Children are among the most vulnerable categories of passengers. In case of a road crash they sustain more severe injuries than adults. But the standard car safety systems are not designed to protect children-passengers. That's why the use of special restraints is vital for child transportation and a child car seat is recognized as the most reliable device. The studies show that the risk of an injury for a child in a car seat is three times lower. According to the World Health Organization the use of special child restraints reduces fatalities among children-passengers by 54 % and the risk of injuries by 70 %.
Nevertheless latest data of the All-Russian Center for Public Opinion Research and the "Road Safety Russia" NGO are rather disappointing: the number of car owners who don't have any special child restraints or who don't plan to purchase it has increased from 39 % up to 70 %. It means that the majority of parents still have no clear understanding that without a car seat their kids can be lost or become disabled in a car crash.
According to the statistics, the total number of road crashes involving children and adolescents has increased in Russia. For instance, in 19500 road accidents for eleven months of this year 890 children were killed, including 481 child-passengers, and more than 20500 children were injured, including more than 9100 child-passengers.
Everybody should bear in mind that a child-passenger has no possibility to act upon a road emergency and therefore belongs to the most vulnerable group of road users whose safety completely depends on adults. So give children a chance to stay safe and sound in case of a road crash - present your relatives with a child car seat!
Let's remind that the use of special restraints for transporting children under 12 has been mandatory in Russia since 2007. The penalty for non-use of child restraints is a fixed fine of 500 roubles.
Igor MITIN,
Comments
So that to post a comment you need to login the web site